Drivers warned to be on the lookout for deer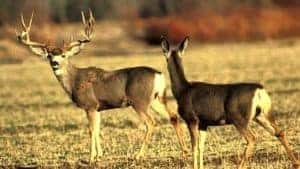 Drivers are being warned to be on the lookout for deer as we head into the end of the year.
The last three months of the year bring fewer daylight hours and cooler temperatures, causing deer to emerge earlier than normal.
The Kentucky Transportation Cabinet said half of all deer vs. vehicle collisions take place from October to December. In 2017, more than 3,200 deer-related crashes were reported in the state in that three-month span.
"October, November, and December account for more than half of all reported deer-vehicle collisions," said Deneatra Henderson, KYTC District 2 chief engineer. "We're taking time to alert drivers to use extra caution, particularly when driving during twilight hours when deer are more likely to be on the move and visibility is poorest."
The Tennessee Highway Patrol says November and December are the worst months for deer-related crashes in the Volunteer State.
THP says deer-related crashes increase in these two months likely due to mating and hunting season.
"Deer related crashes can be a very serious and dangerous incident," THP Colonel Tracy Trott said. "Deer pose a danger to motorists throughout the year, especially in the fall. Stats show November is typically the worst month for deer-related crashes. It is important for motorists to exercise caution, slow down and remain alert in areas where deer are present."
Not only do deer-related crashes cause damage, they also account for a large number of injury crashes.
Annually across the United States, about 200 deadly crashes are attributed to deer.
THP provides the following tips when encountering a deer on the roadway:
Be attentive and drive defensively constantly scanning the roadside, especially at dawn and dusk;
Do not swerve to avoid contact with deer. This could cause the vehicle to flip or veer into oncoming traffic causing a serious crash. Swerving can also confuse the deer as to where to run;
When you spot a deer, slow down immediately. Proceed slowly when passing;
If you do collide with a deer, never approach the animal. They are powerful and can cause bodily harm to a human. Report any deer collision, even if the damage is minor.